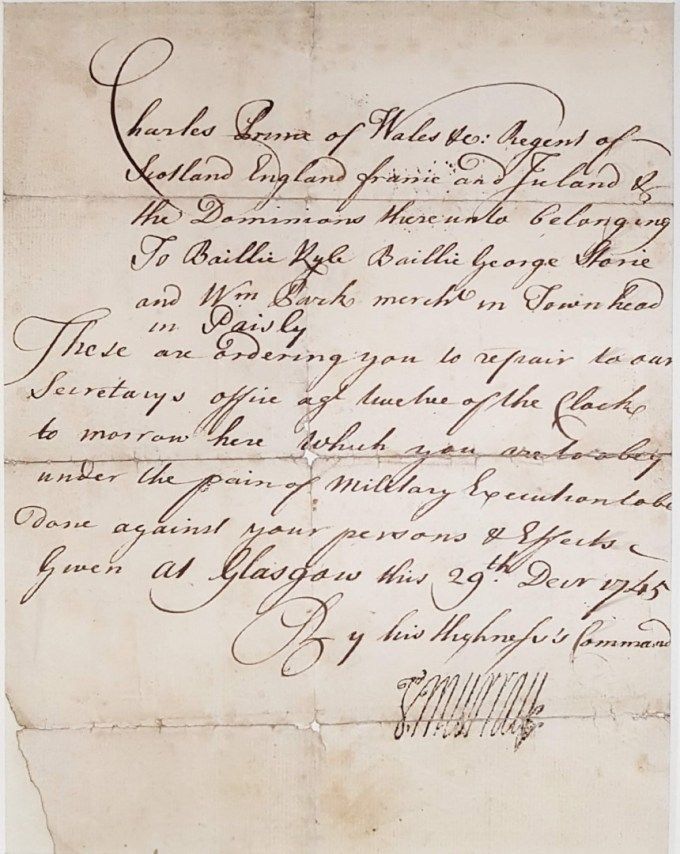 Paisley Museum will showcase 275-year-old Jacobite collection
The Jacobite collection, which includes letters of debt unpaid to Paisley after 275 years, will go on display in Paisley Museum for the first time.
On 29 December 1745, the Jacobites led by Bonnie Prince Charlie issued a summons to the then Paisley Town Council to meet and account for raising a local militia against them. This summons, along with a receipt from the Prince's Secretary for a £500 fine paid just five days later by the people of Paisley, will go on display when Paisley Museum reopens following its £45m redevelopment.
Unlike other towns, that were also fined by the Jacobites but later reimbursed, Paisley's money has never been returned. Glasgow received £10,000 for its loss in 1749, and in 1750 Dumfries was indemnified with £2,800, however every application Paisley made was refused.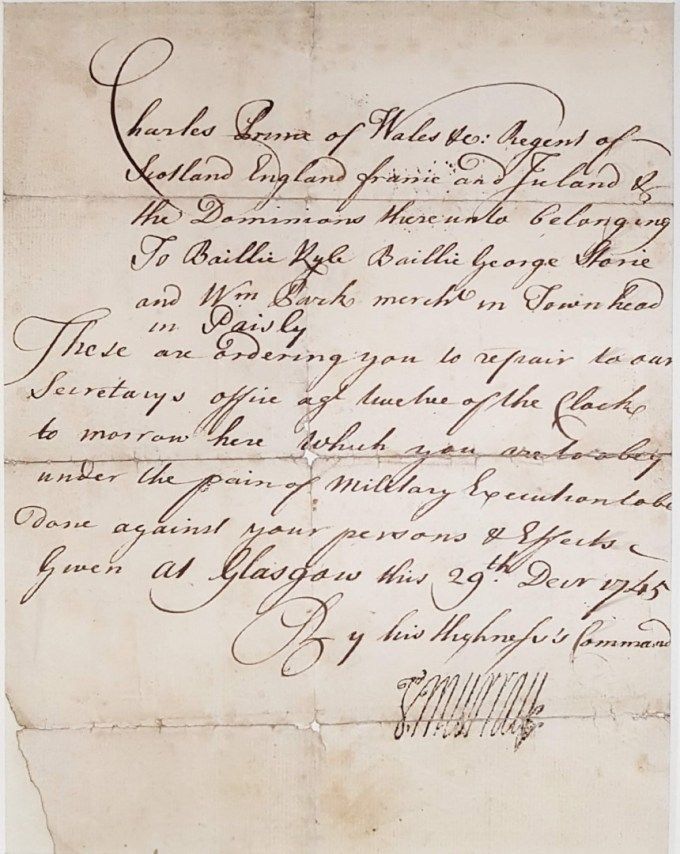 Jacobite Summons to Paisley Town Magistrates (1745 Rebellion)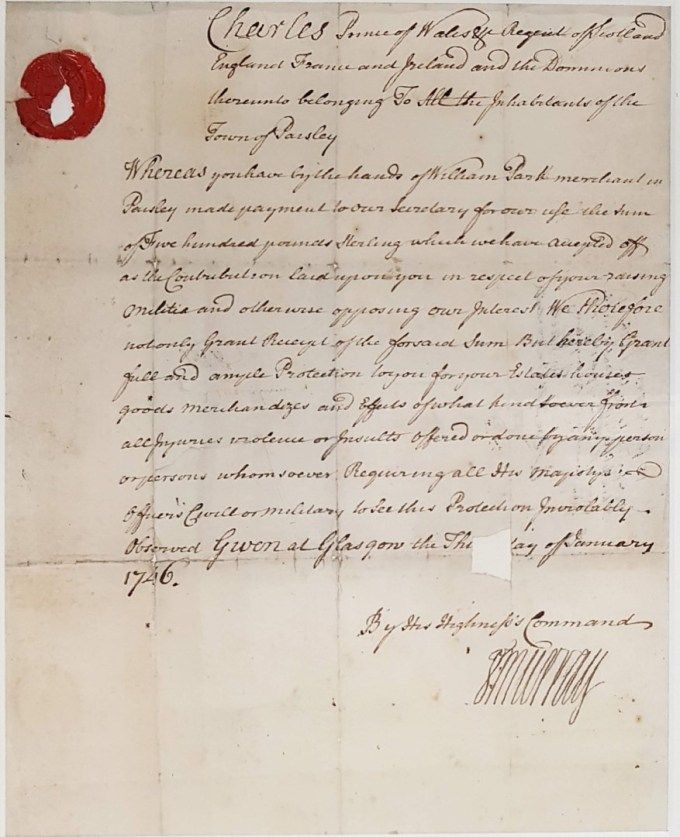 Jacobite Receipt to Paisley Town Magistrates (1745 Rebellion)
Archie Henderson, Social History Research Assistant for Paisley Museum, said: 'The history of the Jacobites is full of fascinating tales and having the opportunity to reinterpret the museum's collection, tell new stories and retell old stories in a more engaging way is all part of the museum's redevelopment. On 30 December 2020 Bonnie Prince Charlie celebrated his 300th birthday, so what better time for us to remind people of this part of our town's history'.
Originally, Bonnie Prince Charlie fined Paisley £1,000 and took Bailie Matthew Kyle and former Bailie William Park hostage to ensure the fine was paid. However, this fine was later reduced to £500 providing it was paid in full by the following evening. When the time came, the town only managed to pay £300, and the payment window was extended by 12 hours. At the final hour the remaining payment was made to the Jacobites and a receipt from the Prince's Secretary John Murray of Broughton was issued.
Henderson goes on to explain: 'After the Jacobites were defeated at Culloden, and money started to be repaid to other towns, Paisley Council was advised that they should take John Murray to court, which they did in 1753 and the case dragged on for seven years without success. In 1760 an appeal was launched but again there is no record of any response or positive outcome, so the debt has remained outstanding'.
It is believed that £500 in today's money would be worth more than £100,000. Alongside the summons and receipt we look forward to showcasing other items from the Jacobites collection such as the original Culloden sword passed down from the Carlile family; a Jacobite silver medal commissioned by Bonnie Prince Charlie; a painting by David Wilkie (1819) of The Veteran Highlander; and a headstone from the grounds of Paisley Abbey commemorating John Orr, one of eight Paisley volunteers killed at the Battle of Falkirk in 1746.

Culloden Sword (1745 Rebellion) donated to the PPI in 1870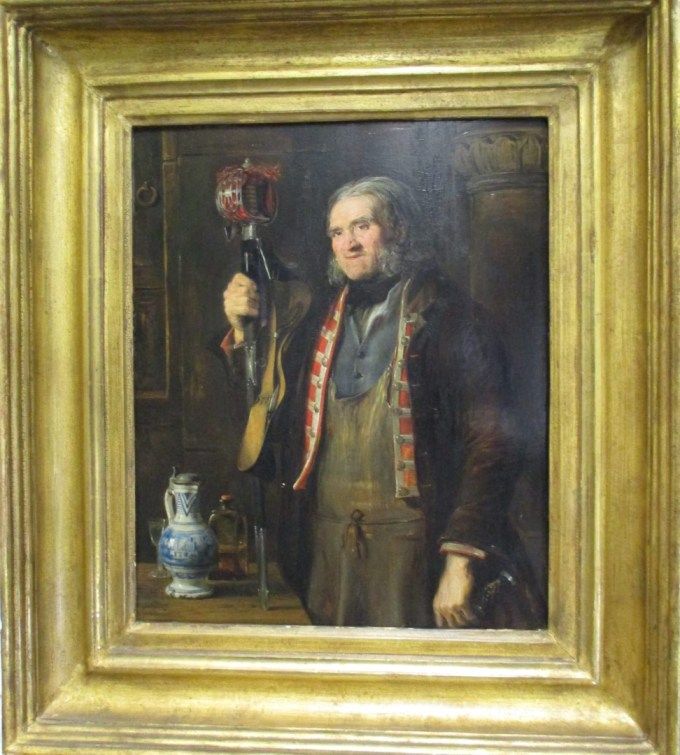 Wilkie, David, 1785-1841; The Veteran Highlander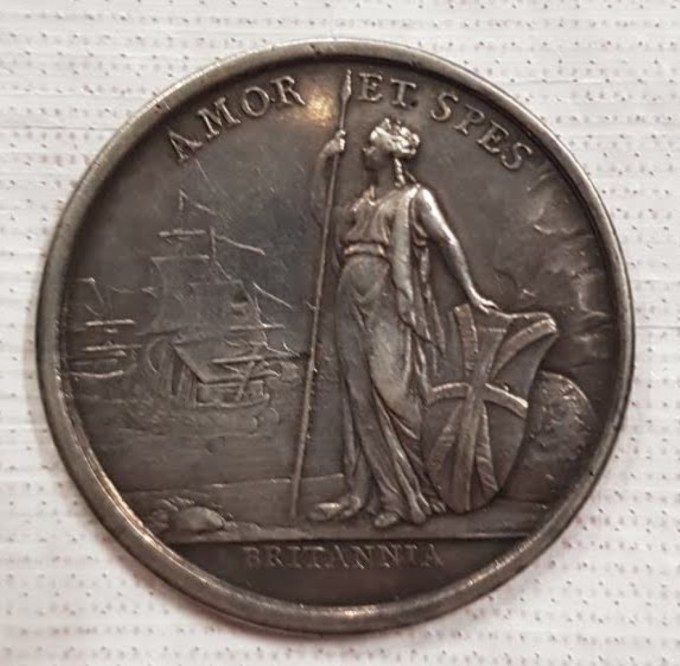 The back of the Jacobite Receipt to Paisley Town Magistrates (1745 Rebellion)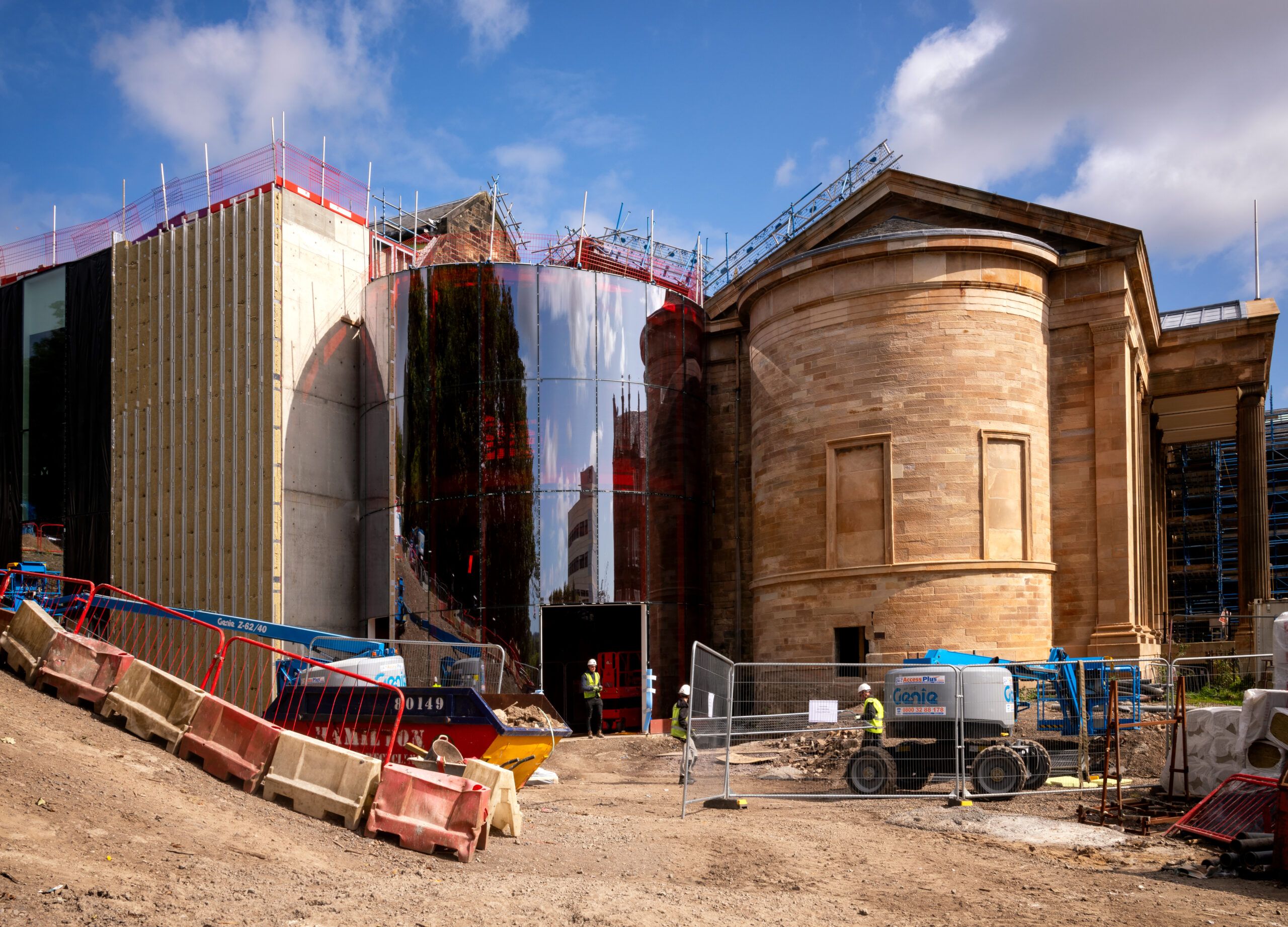 04 / 10 / 23
Check your knowledge and discover fast facts about the Museum's social spaces.
Read More
More News & Stories