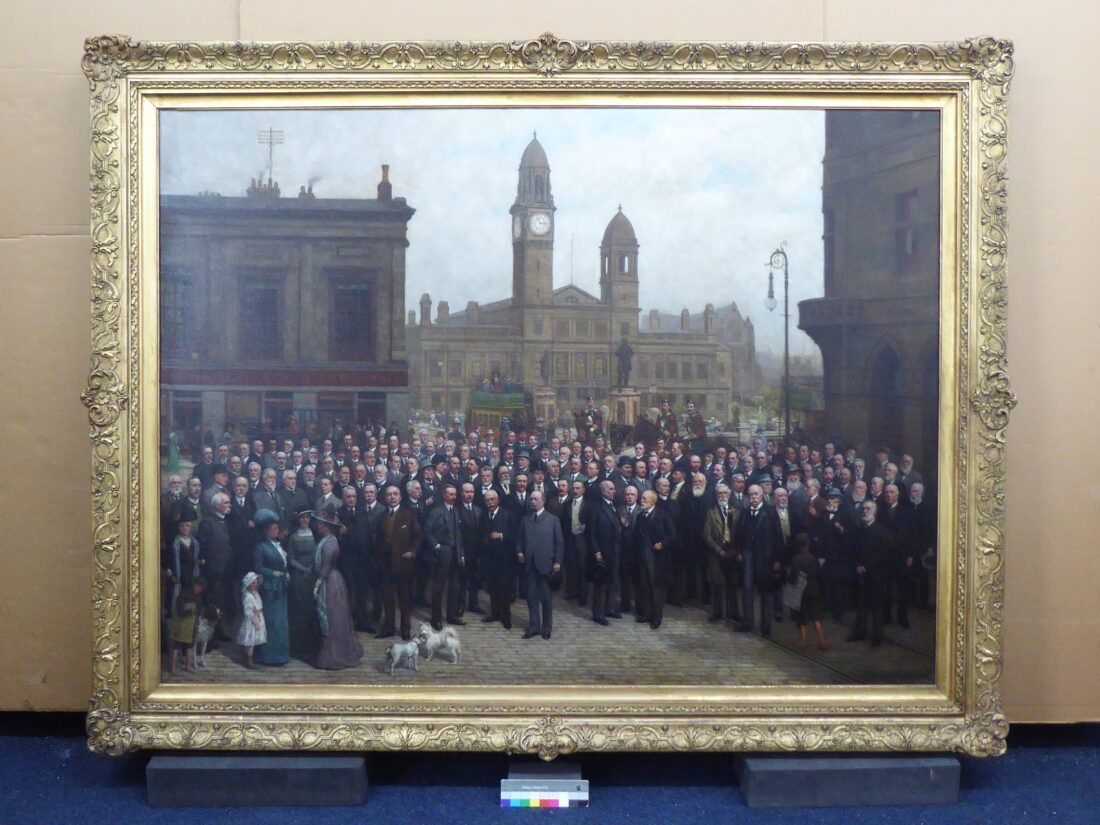 Stunning Paisley artwork brought back to life due to incredible restoration work by expert conservators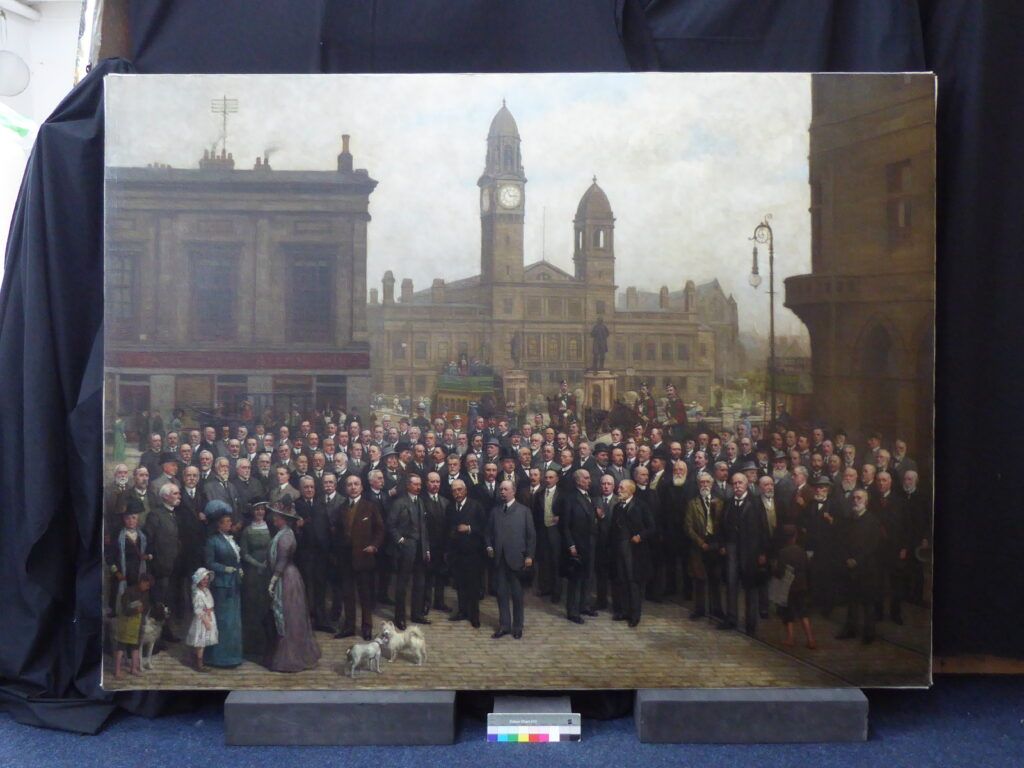 For generations, the true beauty of one of Paisley's most important artworks has been hidden from view. But now, following 225 hours of painstaking work by specialist conservators, Egan, Matthews & Rose, based in Dundee, new details of artist William Barr's most important work have been revealed.
In 1910, Barr, originally from Glasgow, completed pastel portraits of more than 100 of the town's 'great and good', the town's social elite, ministers, civil servants, councillors and industrialists. Perhaps a reflection of the Edwardian era, the completed work included only four women – one of whom became Paisley's first female chair of the town's Parish Council in 1912.
Since it was first shown at the town YMCA, the painting's condition deteriorated. OneRen's curator of art, Dr Victoria Irvine, says that it was 'probably the most damaged' painting in Renfrewshire's collection. Discoloured varnish coatings did not help the appearance of the picture, along with less than ideal previous storage facilities. There was also water damage from some time in its history.
Now, as part of the £45 million refurbishment of Paisley Museum – Scotland's biggest cultural heritage project – the painting has been restored by a team of specialist conservators. Victoria was stunned by the transformation. She said: "I remember this painting pre-conservation. The paint was literally coming off the canvas. The work that's been done is unreal, it's been so meticulous to stabilise the picture and bring it back to life.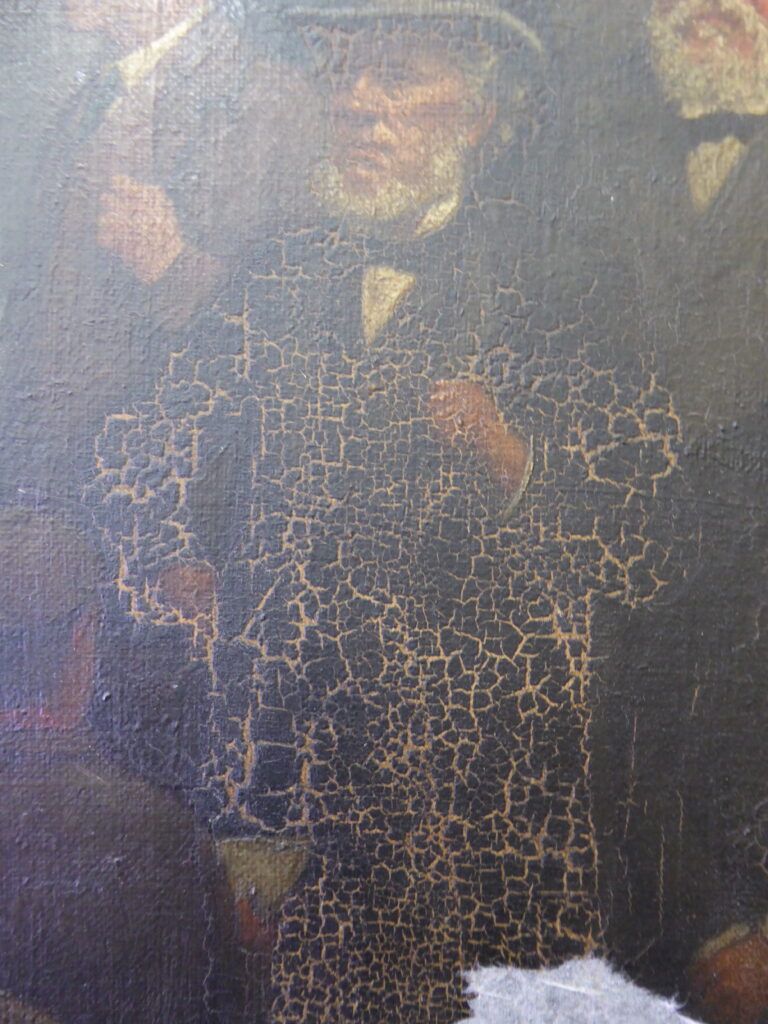 Detail of a figure before treatment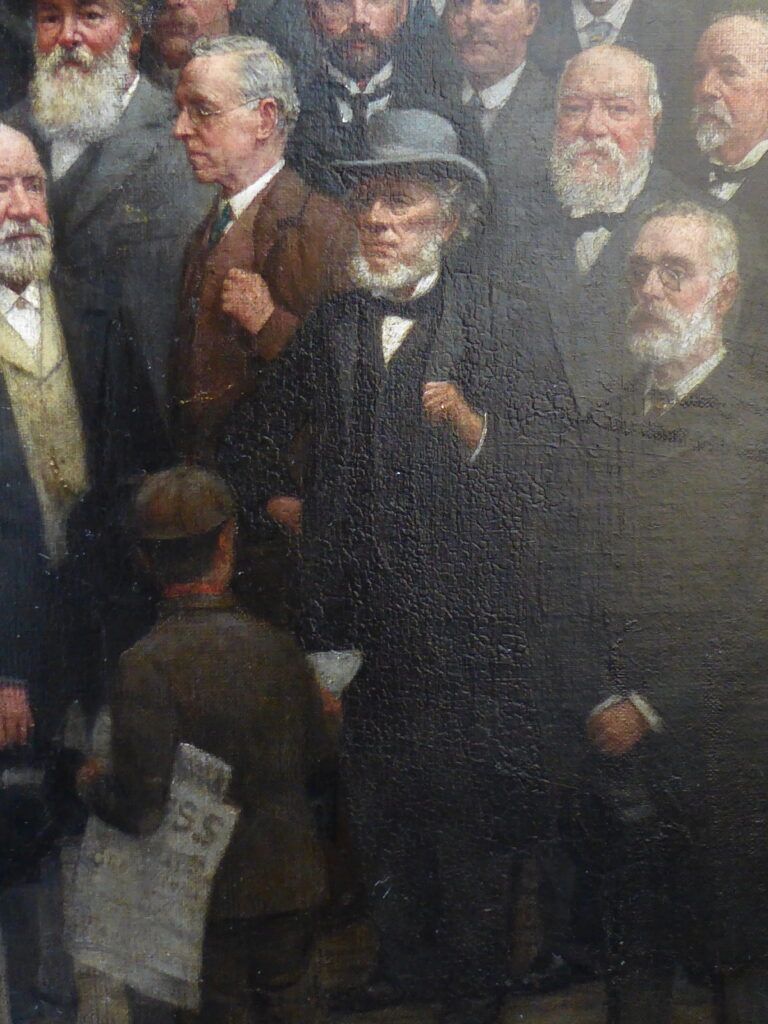 Detail of a figure after treatment
"The picture itself is extremely important to Paisley and Renfrewshire's heritage because it's a particular moment in time; whenever we share these kinds of images, they really resonate because people connect with places and individual histories."
The painting depicts figures in front of the Town Hall, a building which is also enjoying a complete restoration, following a multi-million refurbishment, which will rejuvenate Paisley just as much as the revitalised work of art portraying it.
Both the painting and frame were worked on by a team of conservators – Gail Egan & Henry Matthews, conservator-directors of Egan, Matthews & Rose, assisted by student conservator Sophie Percival.
Gail said: "The painting was filthy, with thick, sooty dirt at the front and back, and the heavy plaster and silty deposits from the water damage at the reverse. As conservators, our main task is to ensure the stability of a painting and to preserve it in the best possible structural and visual condition for future generations, and we were excited to get started."
Henry added: "We were delighted with the overall appearance of the painting following the very complex structural and aesthetic treatment. It is immensely satisfying to have rectified the damage and stabilised the painting structure, ensuring that it will be safe and secure for the future. It was thrilling to reveal, through a challenging cleaning process, the true colours and detail of this lovely picture with all its local characters and charm. We are privileged and proud that we have been able to bring this important record of Paisley's social history back to life."
Student conservator, Sophie Percival, said: "This was the first time I worked on a painting of this scale. I was mostly involved at the retouching stage of treatment, and with the treatment of the frame which had suffered significant moisture and plaster damage. The frame treatment involved extensive reconstruction of lost and damaged mouldings which was more complex than anything I had previously attempted, and I found I really enjoyed working on them. All of the expertise gained during the treatment of this complex project is a really valuable addition to my skillset. Large paintings no longer seem so daunting!"
Frame detail before treatment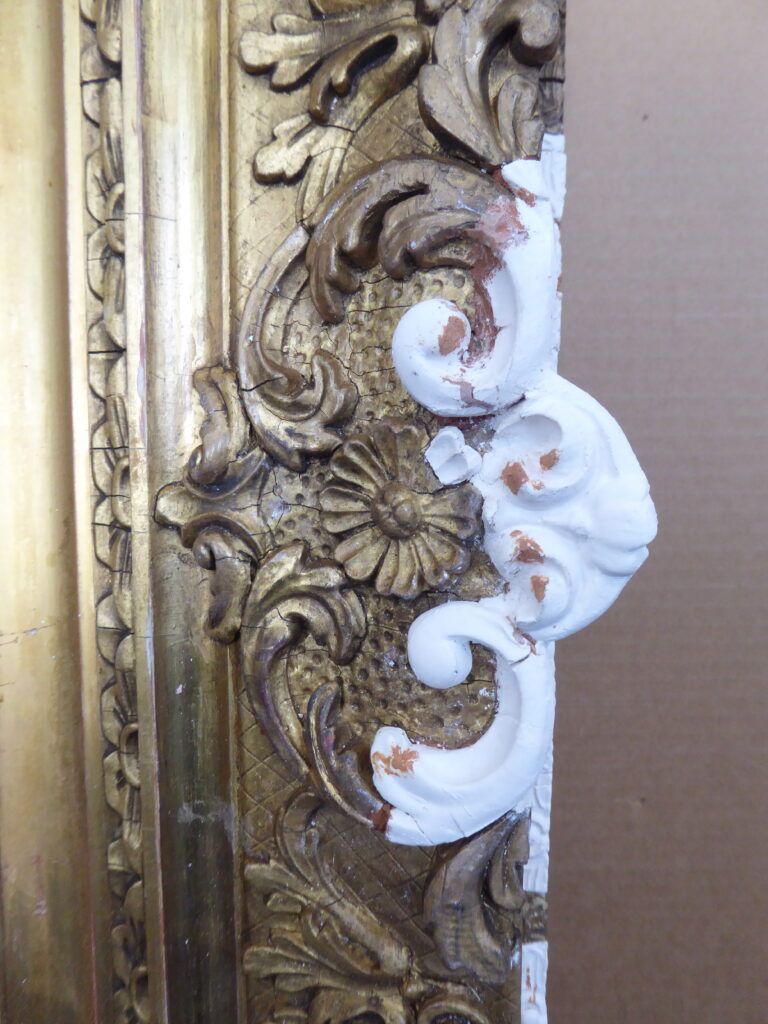 Frame detail during treatment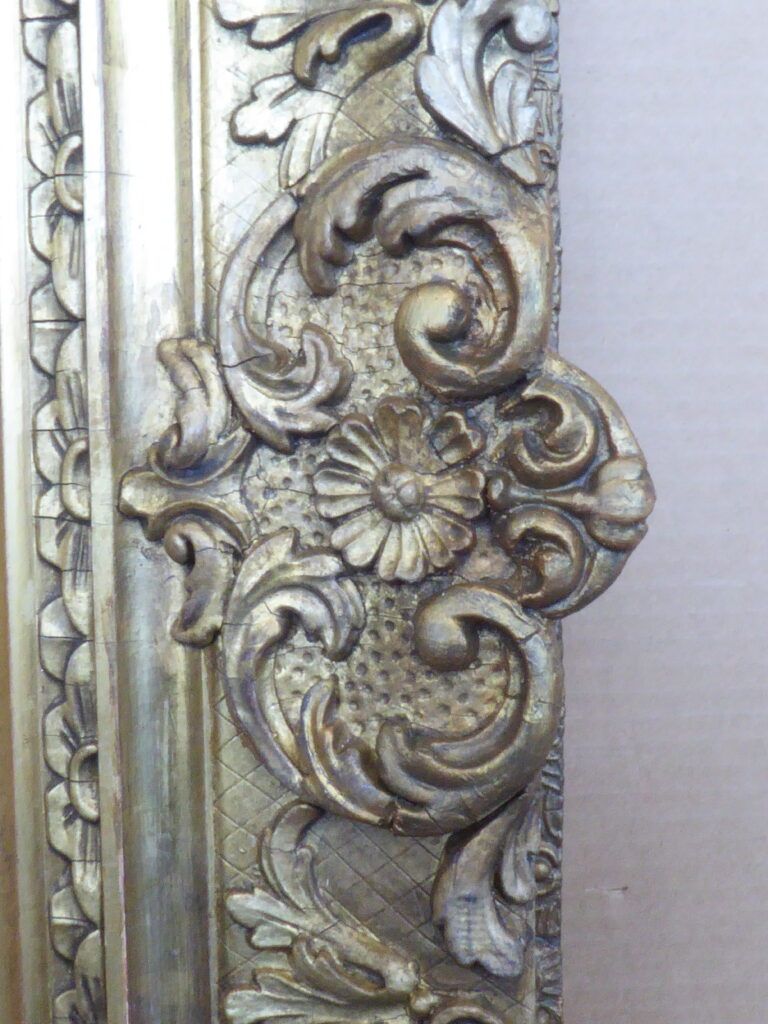 Frame detail after treatment
For Victoria, when the restored painting returned, it was an emotional experience. She said: "When I saw it, I almost couldn't believe it because it looked like a completely different painting. There was so much of the painting which had been covered and when it came back I was so surprised by the colour, the details and all the facial expressions that were lost underneath all those layers of soot, dirt and varnish. It's an amazing job – the picture looking once more as the artist would have intended when it was first exhibited in 1911. It also gives William Barr the prominence as an artist that he truly deserves."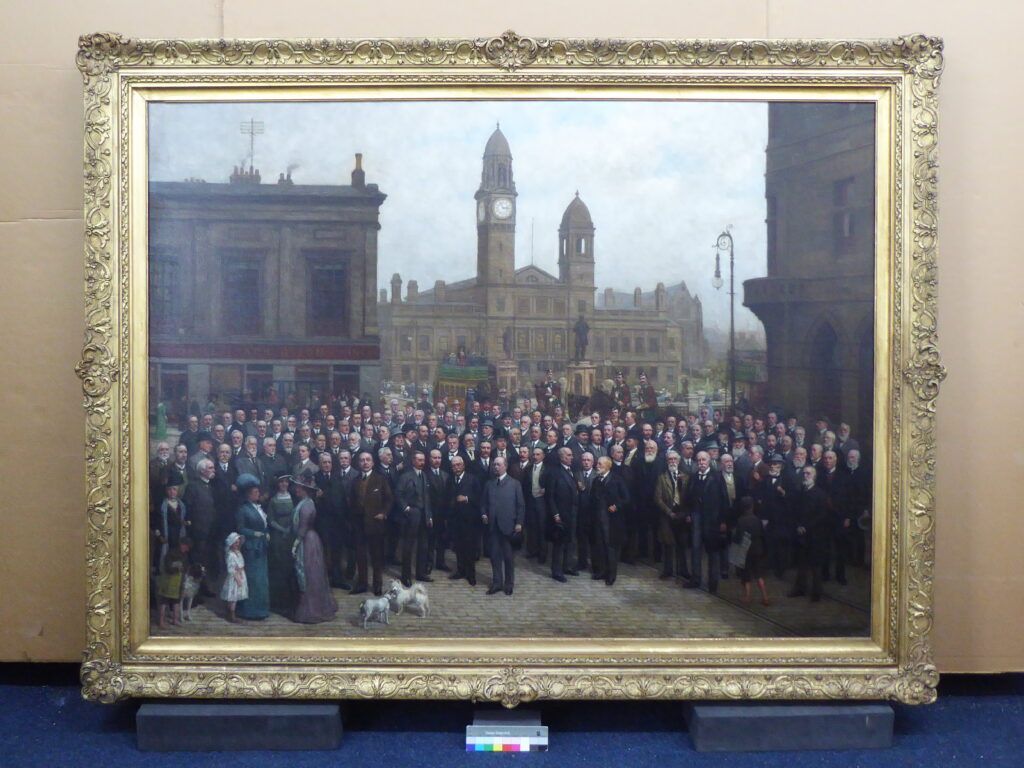 "The Cross" painting by William Barr, restored and framed
Paisley Museum is currently being refurbished and will be operated by OneRen, Renfrewshire's charity which provides cultural, community and leisure services. The project is being funded by Renfrewshire Council, National Lottery Heritage Fund, Historic Environment Scotland and the Scottish Government, as well as a number of trusts and foundations. You can find here the full list of supporters for the project.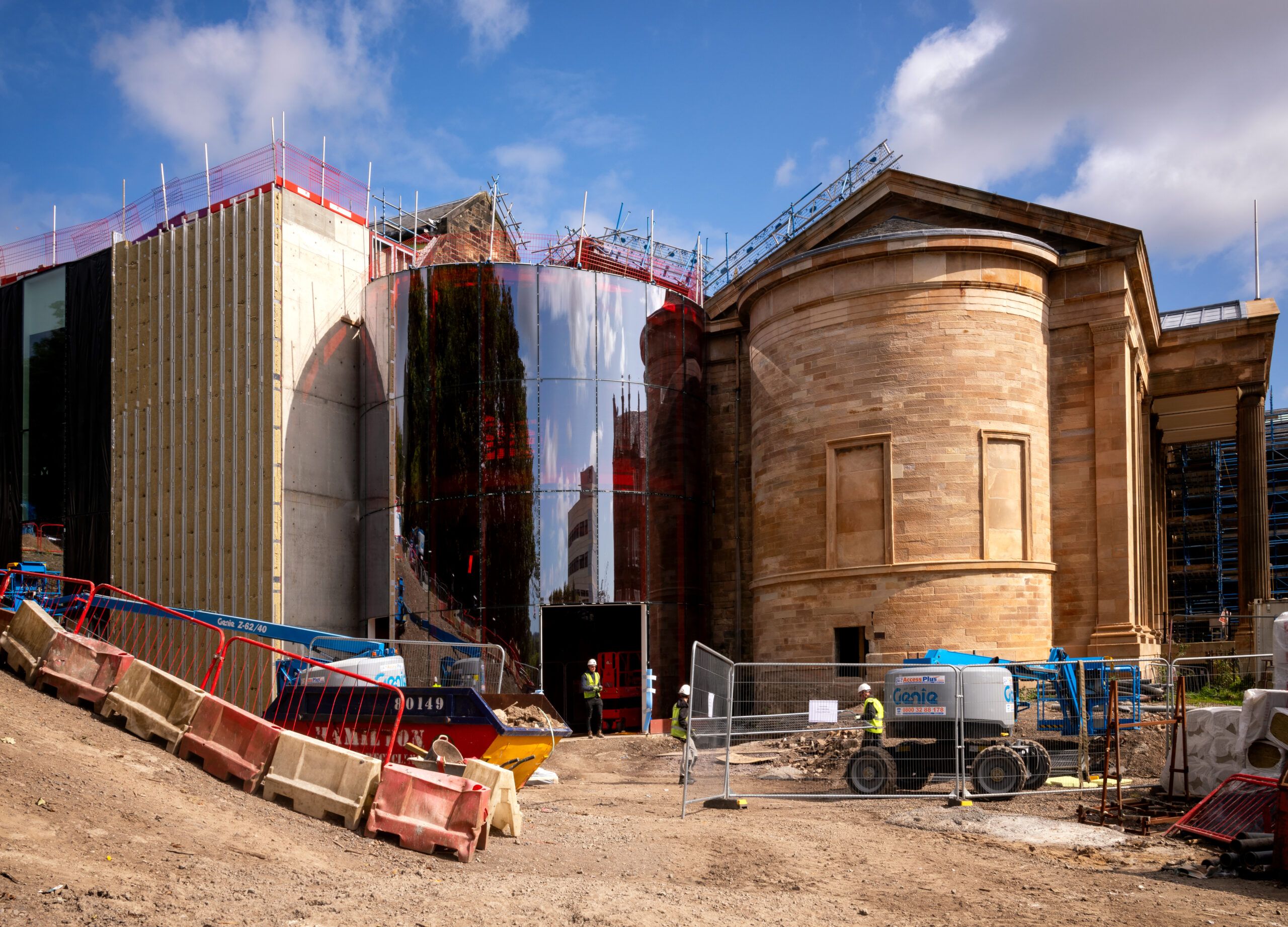 04 / 10 / 23
Check your knowledge and discover fast facts about the Museum's social spaces.
Read More
More News & Stories